5 Things To Consider When Choosing Kitchen Cabinets
The kitchen arrangement and space management are important factors to consider when designing a family kitchen. There is a need to understand and critically consider the functions you intend for your kitchen before setting up one.
One essential component that is useful for organizing relevant kitchen items and maximizing space is the cabinet. It can be strategically placed to meet your desired style and for easy access. There are many designs of kitchen cabinets available and there are some important factors to keep in mind before making a choice. Some of them are outlined below.
#1: Stock or Custom
Some cabinets are ready made and sold commercially in different colors and sizes while others can be built to meet your specification. Some semi-custom options are also made, with modified sizes and additional details, usually to fit into available space. This factor is the first and most important to consider, putting your budget, lifestyle and kitchen needs in mind before making a choice of a kitchen cabinet.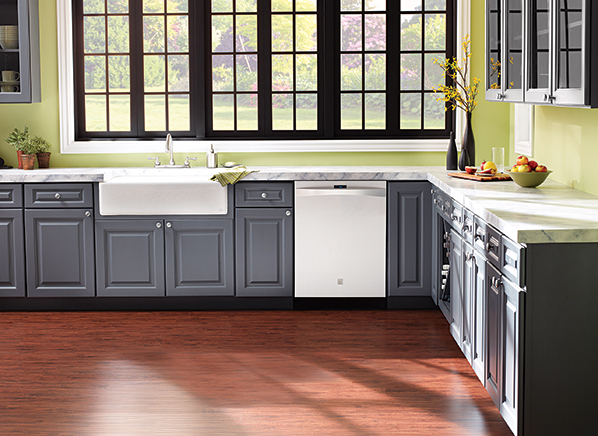 #2: Storage Capacity
Consider if your kitchen is spacious or cluttered. This can help you determine if what you need is a stock or custom kitchen cabinet. Sometimes what you actually need is an organization, not space. Small appliances and garbage can be hidden away in accessible manner likewise major cutleries. Map out where everything will be kept and get cabinets that can hold important items to allow enough space in the kitchen.
#3: Door Design
You need to put other sections of the home in mind when choosing the style of cabinet door. You can actually get custom-made designs that fit into the style of furniture in other parts of the home. One advantage is you have unlimited options but with stock, what you see is what you get.
#4: Finish/Color
Don't be too fast to go with anything trendy because it can quickly become dated. Choose finish and color that satisfies your aesthetic feel as well as complement other materials in the room. Many finish options such as wood, laminate, and paint amongst others are available, but the classic wood finishes are known to be widely appreciated for increasing the value of homes. So far, grey mixed with black and white is still the most popular color for kitchen cabinets.
#5: Hardware Design
Carefully consider the hardware as this contributes greatly to the overall look of the cabinet whether good or bad.  Ensure it aligns with the style of the cabinet door with simple knobs and pulls and remember to give exposed hinges same finish.
Nevertheless, a great way to go about all of these is to visit trusted suppliers like Cuisines Rosemere to help you make the best decision.